Acting School in Delhi |Acting Institute in India
Acting School in Delhi
Acting is a skill that requires observation and thinking capacity. Actors need to be very particular regarding their voice modulation, face expressions, imaginative thinking, open-minded perspective, emotional transition, flexible personality and ability to analyze the script. More-often, actors are good at singing, dancing, mimicking and imitating, speaking in different kinds of accents, etc. The entire process of performing needs patience, efforts, technique and discipline. Rare does it happen that an actor has the entire knowledge of the entire filmmaking process. Fortunately there is no difficulty to find an acting school in Delhi which provides you the correct acting course which guides you through the rigorous practices and knowledgeable experience.

That's why there are various acting institutes in Delhi adhering to the aspiring actors who want to learn acting from the basics. It might all seem really easy but a lot of things go into a particular short film or even a particular scene. One of the leading acting academies is RK Films and Media Academy, wherein we work on every aspect that comes under acting. We not only focus on the theoretical knowledge but also make the person stand confidently in front of camera. This is what distinguishes on-stage acting and on-screen acting.
CURRICULUM OF THE COURSE
There are a various concepts that we teach when it comes to acting. There are various acting classes specifically aiming to work on different topics like Body Language, Discussing films, Acting Exercises, Voice Exercises, Physical Exercises, Working on stress and pauses, Mirror exercises, Biographies of famous personalities in the field of acting, etc.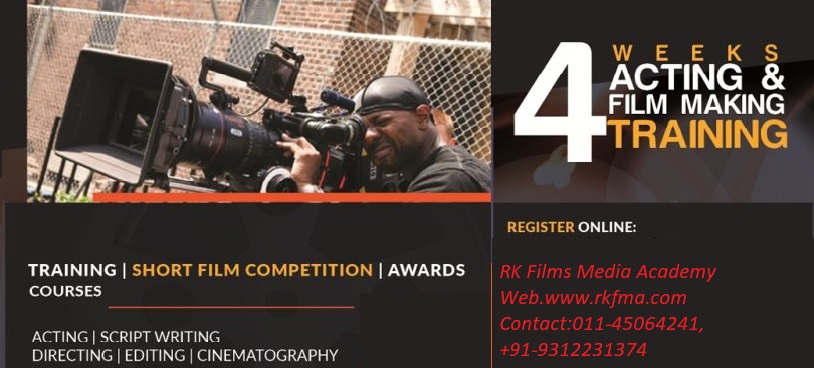 When we go in the depth of the acting courses we also teach way more things likes dancing, lip syncing,etc. You also learn to sync along with others performing on the stage in terms of dancing, singing, and dialogue delivery. We work on some more elements of acting like working on side roles, Diction Exercises, Dubbing etc.
CAREER IN ACTING COURSE
There is a big bag of opportunities of career in acting for the upcoming aspiring actors and actresses. There is a huge demand in the upcoming generation to express and come under the spotlight. This has not lessened the difficulties but increased the competition further. That is the reason there are various acting institutes and drama schools that provide certificate and diploma in acting course. This is not one of those fields that will bring success in one go. You shall be patient to be able to imbibe your ego and try hard.
Initially the aspiring actors pursue a course in drama school in Delhi toh give their career a kick start. Many of the present successful actors have started off from scratch wherein they begin either from modelling or directly on the basis of their acting degree and diploma to work in a Commercial Ad. They further go ahead and work in various reality shows, or maybe daily soaps to gain recognition. Depending on their choices, they may also go for big screen acting or else they might gain knowledge about the entire filmmaking process and work in various other branches or fields related to acting like Direction and Film Production.