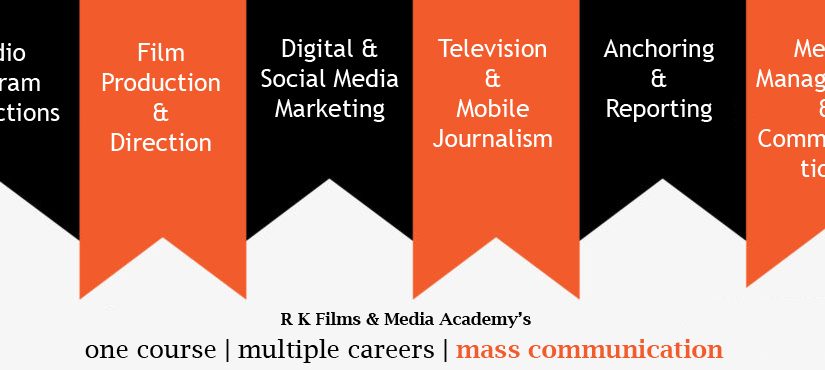 Are you looking for the best mass communication colleges in Delhi?
MASS COMMUNICATION COURSE
In this drastically developing world, there is a mammoth scope for people to enter their desired careers. One of them includes the media industry. This particular career line has a various number of pathways to reach out to it and one of them is by pursuing a Mass Communication Course in Delhi. Mass communication is a course in which people get an insight about en number of sectors that includes advertising, print media, journalism, web media and marketing, films arts and animation, Films and TV Program Productions, etc.
Talking about Mass Communication Colleges in Delhi, RKFMA offers recognized degree & diploma programs in mass media & journalism. Graduation in BA (Mass Comm.) university degree, Post Graduate Diploma & MA in Mass Communication degree are recognized by the UGC approved University as well. This particular course targets to strengthen the communication skills along with theoretical knowledge dexterity adhering to the development of media since the 1920s.
CURRICULUM OF THE COURSE
You get to learn a lot of things in this course. Mass communication classes help you to know about Human Communication, Mass Communication & Journalism, Media Writing Skills, Computer Applications for Electronic Media, Photography, TV journalism, Media Laws, Film Appreciation, Practicals of Radio Program Productions, Media Planning, Advertising and Marketing and much more. This course gives you the much-needed exposure in almost all you might want to.
CAREER IN MASS COMMUNICATION
Mass Communication Courses provides you with an ample number of opportunities to explore around and find the best-suited career for you. Many Mass Communication graduates go to pursue a specialization in one particular core subject to gain more knowledge which will be beneficial for their career. This course basically bridges the gap between the corporate and artistic world in away. These days there are Mass Communication Institutes in Delhi that groom the students during the entire course of time mentally, physically and vocally wherein their general knowledge is upgraded to another level. Opportunities are increasing through e media which gives you knowledge about e mediums of communication, dealing with the social world and gives you a clear image as to what they might want to pursue in future. Enhancement in communication skills and personality leads you to the fields starting from anchoring to representative and also helps you make a successful career in fields related to acting. There are various other fields that come under the writing and editorial part of Mass Communication.

These people may become Content Developer, Editor, Newspaper Journalist and much more. There is a lot that goes behind that one particular news reporting channel. There are various important aspects like graphics and script which needs to be taken care of. Thus, getting employed in the press control room and being a scriptwriter is also an option after this course. There are many more job profiles for which people aspire other than those mentioned above.
For any admission information, assistance / help required in admission in above courses of RK Films and Media Academy , candidates can also Contact or WhatsApp RKFMA's representative at +91-9312237583, 9958880223, 9310047775, 9312231374 between 10am-6pm IST.