Online Courses in Journalism and Mass Communication
Online Admissions and Online Classes | Enroll & Learn from Anywhere | Online Courses at RK Films & Media Academy | RKFMA Delhi India
RKFMA invites admissions online for its course programs offered through online medium in a safe and secure mode. Due to COVID-19 pandemic and to facilitate the students aspiring to pursue diploma or degree in mass communication and journalism were, the classes for 2020 academic session are being conducted online.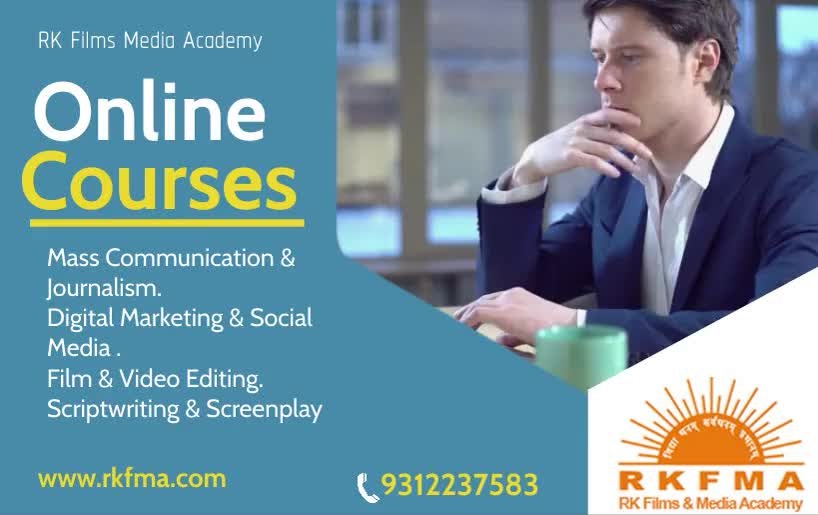 Online Courses in Journalism and Mass Communication
You may choose to join any of the following courses through online class-room mode:
The online admissions process is also very easy and can be done by eligible applicant meeting the respective qualifying criteria for the above mentioned degree in mass communication.
For details, interested can also WhatsApp queries at +91-9312237583, +91-9310047775
Practical course for a particular course shall be organized in batches and as per the instructions of expert trainers so that a learner/ students may also submit their academic projects on time.
The fees of the above online courses have also been kept pocket-friendly which almost anyone may be able to afford.
All online classes will be live and interactive so that all students shall be learn and solve their queries with the teachers and trainers during the class itself. The notes shall also be made available before and after completion of the classes.
Those who are not able to attend any particular session may be given access to available recordings for better understanding.
Classes shall be scheduled on part-time basis on 2-3 days per week and also on weekends. The shall help the learners in enrolling for other online courses or pursue their existing online classes from elsewhere as well.