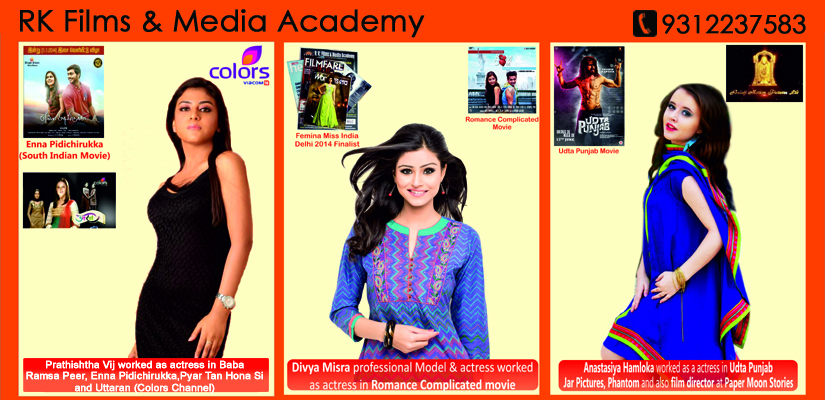 Acting Institute in South Delhi
Learning the Acting Skills That Inspire the Bigger Audience
Acting Course in South Delhi
Want to make acting your profession? Then you need to improve your acting skills that give you the confidence to achieve success in real-time. Nowadays, you can easily join an acting course in South Delhi that helps you to learn acting and gradually you would become an expert actor.
Acting Institute in South Delhi
RK Films and Media Academy is a reputed acting institute in South Delhi and here you can seek admission to the acting course that helps you to go ahead. The expert faculty here gives you a better feel and you can now explore life in your way. It's time to join the course and thus you can give your career a new start. You would become an actor winning the hearts of viewers.
About the Course
Acting School in South Delhi
Once you join the course you would get familiar with the optimistic facets and thus you can now comprehend the importance of an acting school in South Delhi. It's important to get a clear view of the syllabus and accordingly you can make the right choice. It's time to find the ideal acting school where you can learn the techniques to express the emotions on screen.
Learning the New Ways
First, you have to learn the new ways improving your skills and it helps you to get good job opportunities. It helps you to regain your self-confidence and you can now go ahead eliminating all the challenges. RK Films & Media Academy comes up with a good faculty who gives you proper guidance and it becomes easy to learn acting. In this way, you can now comprehend how an acting course makes life easy and you can now make your dreams come true.
Along with the theoretical sessions you also need to attend the practical classes that makes you feel confident. You can learn the ways to communicate with your co-actor and you become a successful actor. Make sure that you can perform both comedy and tragic scenes that help you to become a versatile actor.
You would learn different acting techniques, which are like:
Method acting
Classical acting
Meisner acting technique
The Chekhov acting technique
It's time to learn the acting styles and you can now impress your audience with the true emotions.
Career as an Acting Course
Acting as a career involves more than just performing in movies. You can now perform in live theatres, in commercials etc. So, you can choose the platform where you perform well and it helps you to achieve success in life. In this way, you can now become an expert actor who depicts a situation with real emotions.
For enquiries or collecting information in admission in Acting & Modelling courses, please contact admissions counsellors at 011-45064241, 09312231374, 09312237583, 09310047775 or 09958880223 between 10am-6pm IST. Candidates desirous of joining RK Films & Media Academy's Acting & Modelling courses can also WhatsApp at +91-9312237583 or email at: admissions@rkfma.com
Click here to get more details