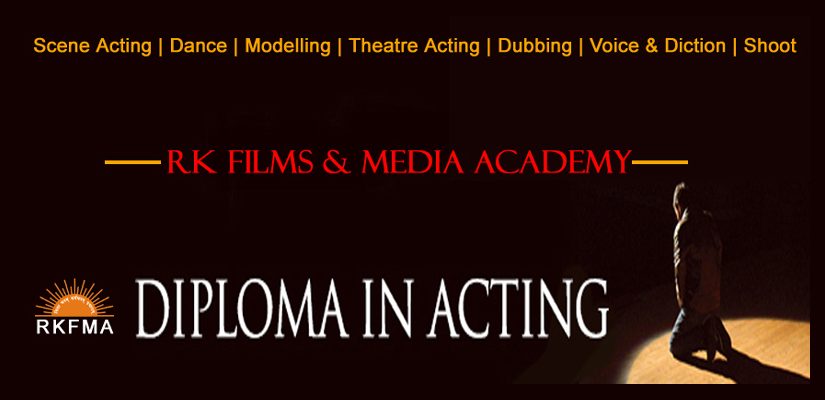 Acting Schools in India – RKFMA
ACTING COURSE IN India | ACTING INSTITUTE IN India | ACTING CLASSES IN India
Acting Schools in India
RK Films and Media Academy is a reputed acting School in India and here you can seek admission to the acting course that helps you to go ahead. The expert faculty here gives you a better feel and you can now explore life in your way. It's time to join the course and thus you can give your career a new start. You would become an actor winning the hearts of viewers.
Incase you wish to join weekends training classes of Film Acting & Modeling Course at please send your query by filling up the query form or contact us for more details.
Acting Institute in India
Every form of art in this world is defined on the basis of the masterpieces belonging to that field. They come under the spotlight when they rise above the speculations and the barriers. This leads to evolution with the upcoming generations and it moulds itself according to time and place. Be it dance or music, we would have never imagined them to be the kind of art they are today like they were before. But like any other form of art, an actor or theatre artist needs to open up to a great amount of knowledge and history so as to be able to resonate the present scenario in the theatre. The significance of this knowledge cannot be taught better than Acting Institutes in India. This often helps in sensitizing a person about the worldly happenings and mishaps so that they imbibe those emotions in the right way.
For enquiries or collecting information in admission in Acting & Modelling courses, please contact admissions counsellors at 011-45064241, 09312231374, 09312237583, 09310047775 or 09958880223 between 10am-6pm IST. Candidates desirous of joining RK Films & Media Academy's Acting & Modelling courses can also WhatsApp at +91-9312237583 or email at: admissions@rkfma.com
Click here to get more details