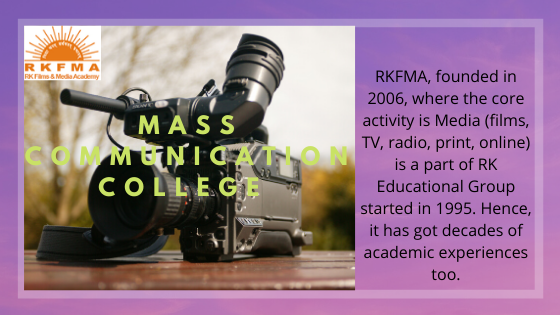 RKFMA | Helping you to Explore Better Career in Mass Communication & Journalism
Want to explore a different profession? Presently, mass communication is a great career option and it helps you to make your dreams come true. Nowadays, there are manifold institutes offering mass communication course and thus you can seek admission to the ideal course that gives you the confidence to go ahead. If you are excited to do things in a different way then mass communication is the best career option that helps you to give your career a new start. R.K. Film & Media Academy comes up as the best mass communication college in Delhi and here you can find the ideal courses that help you to go ahead. This field requires young and positive minds and if you are confident then you can choose the ideal course.
Choosing the Best Mass Communication Institute
First, you have to choose the best mass communication institute knowing that it helps you to become an expert. RKFMA is one of the reputed mass communication institutes in Delhi helping you to get your dream job. Once you complete the course successfully you can explore better job opportunities that give you the confidence to achieve success.
RKFMA founded in 2006 has got decades of academic experience due to which you feel confident knowing that you are in the right place. RKFMA is listed among the top 5 media schools and it's time to comprehend the true importance of seeking admission here. It's the most reputed mass communication college in Delhi  and you can give your career a new start.
Choosing the Mass Communication Stream
RKFMA offers the mass communication course you find it easy to achieve real success that brings in the ultimate confidence. You can thus explore a new world where you can see the things in a different way.
There are multiple mass communication streams at RKFMA and you need to choose the one that gives you the success as you want. The streams you can opt for are:
Advertising
Journalism
Production
You can seek expert advice that helps you to choose your career option and thus you can get rid of all the worries. In this way, you can comprehend how RKFMA helps you to explore life in a new way.
In this way, RKFMA helps you to give life a new start and you can now comprehend why to seek admission to the mass communication course.