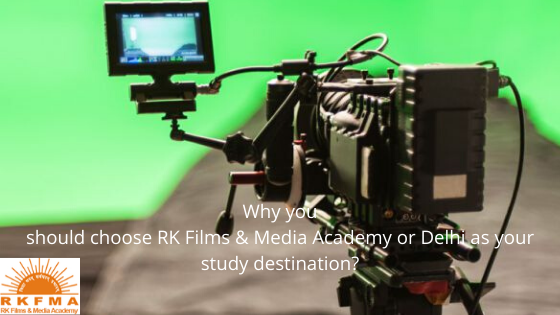 Why You Should Spend More Time Thinking About Best Mass Communication College
Time to Select the Best Mass Communication College
RKFMA | Helping you to Explore Better Career in Mass Communication & Journalism
Want to explore different media professions? Mass Communication has always been a good career option as it grooms your interactive and creative aptitude. Nowadays, there are many media institutes offering mass communication course, but, not everyone caters to all all-round delivery of this field. If you are focussed topursuethe best mass communication course to give your career a new start, then we recommend you visiting RK Films & Media Academy, one of the top mass communication college| journalism institutes in India. Today, there is a huge potential for young, confident and creative mindsetsin this field and if you have that poise then it's time to go ahead.
Why you should choose RK Films & Media Academy or Delhi as your study destination?
Let's quickly try to understand this:
Delhi is the capital of India and hosts ministries alongwith with Indian Parliament, major financial institutions, broadcasting stations, satellite channels, digital media and production houses, publishing houses, diverse communities, monuments, universities, sports institutions and much more too mention. This gives students an option to learn in a competent environment with abundant resources in order to get the right practical exposure.
15 Things Your Boss Wishes You Knew About Mass Communication College
Now, why RKFMA?
RKFMA, founded in 2006, where the core activity is Media (films, TV, radio, print, online) is a part of RK Educational Group started in 1995. Hence, it has got decades of academic experiences too.
RKFMA in Delhi houses its own studios, equipments, radio agency, newspaper, make short films, production house registered with IMPPA (Mumbai)
Since long RKFMA is also associated with reputed universities & colleges like DU, IGNOU, Hansraj College, Bharati College, Jesus & Mary College &Kalindi College to provides practical training programs related to Media & Entertainment industry.
RKFMA is also listed amongst the top 5 acting schools in India and best institutes for studying mass communication by many print publications and online portals.
All teachers are qualified and experienced that helps in maintaining an equilibrium between the needed theories and practicals.
The Academy is also poised to bring the its own online learning applications for the benefit of the students.
Work opportunities are regularly informed to all students and alumni
RKFMA & its students also organises extra-curricular activities like sports, annual fests, competitions, symposiums, seminars, etc too.
Students are free to do avail labs and studios for practicals
Being centrally located in Delhi, outstation can also avail budgeted accommodation like hostels on room sharing basis to cut the costs of living while they study at RKFMA
Fee is also payable in instalments
RKFMA keeps the curriculum updated that helps its students find gainful employment opportunites
Support for extra classes
Students from all over India and abroad also join RKFMA for different courses in mass communication
Want to know more of RKFMA?
Contact or WhatsApp at +91-9312237583, +91-9312231374, +91-9310047775 or +91-9958880223 for all information and email at admissions@rkfma.com, info@rkfma.com