Bharati College's Add-on Course | DU College in Janakpuri | Delhi University
Bharati College's Add-on Certificate Courses | Delhi University | South-West Delhi College | Janakpuri
Bharati College (DU College in Janakpuri) in association with RK Films & Media Academy (RKFMA) invites admissions in following add-on certificate courses: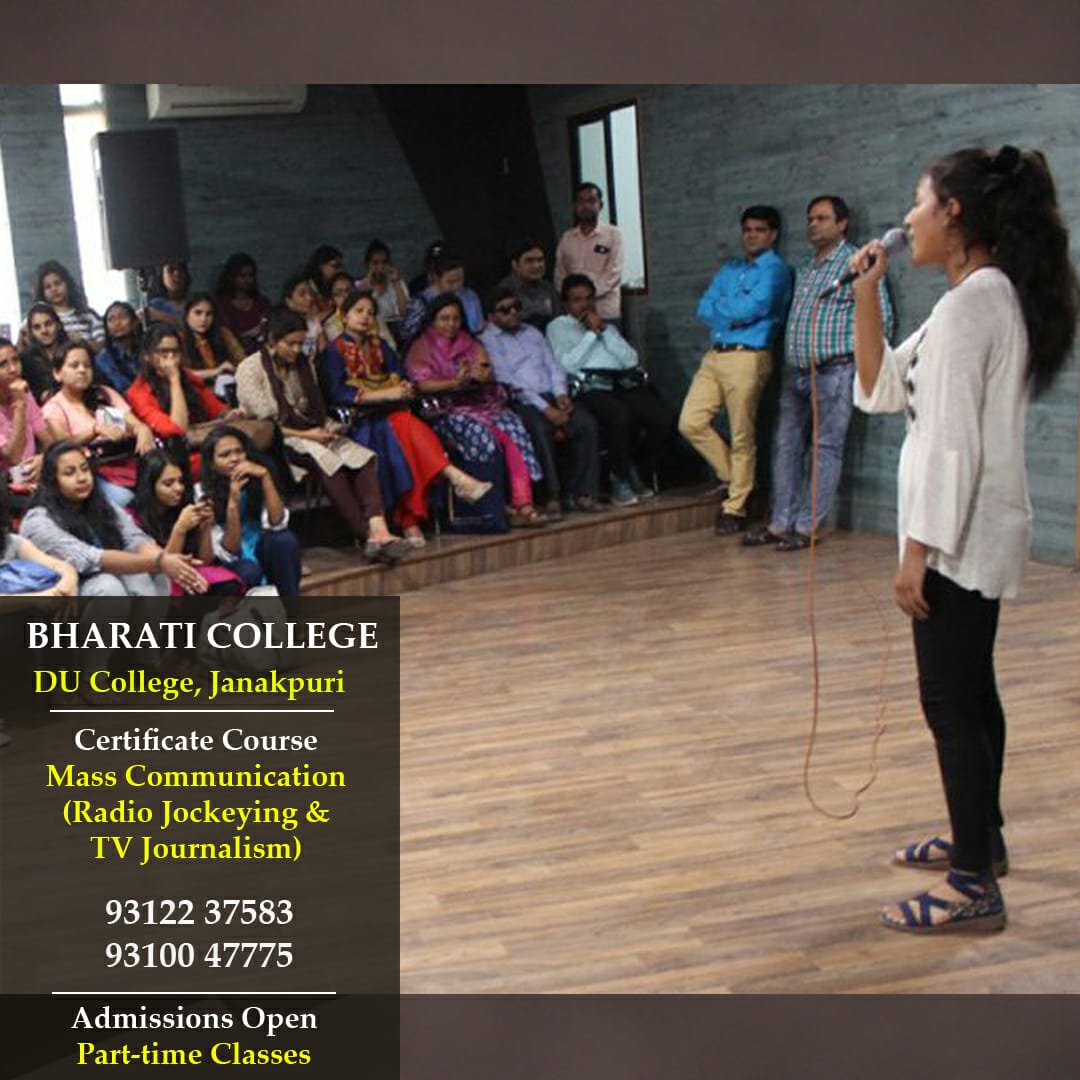 1. Mass Communication (with specialization in Radio Jockeying & TV Journalism)
Duration : 3 months | Class Timings 3:15pm – 4:45pm (2-3 days) per week
Fee: Rs.15,000/- for Bharati College students (Regular/ SOL/ NCWEB) and Rs.18,000/- for all other. Students enrolled and studying at other colleges, universities or institutes can also join. This certificate course at Bharati College is a co-educational program, hence, admission is open to all boys and girls with minimum 12th pass (any stream).
Application Forms are available at the Principal's Office Bharati College in Janakpuri (adjoining Maharaja Surajmal Institute of Technology MSIT) on payment of Rs.100/- in cash. Admissions shall be on first-come-first-served basis.
Visiting Days & Time: Monday to Friday (9:30am – 5pm)
Course' fee is to be submitted online at: Click here to pay the fee online.
Completed admission form is required to be submitted at the Bharati College alongwith following documents of the applicant:
1: Three passport-sized coloured photographs (latest)
2: Self-attested photocopies/ xerox of:
a. Address proof (adhaar/ passport/ driving license any one)
b. Identity proof (adhaar/ passport/ driving license/ PAN/ any existing student ID any one)
c. 10+2 marksheets
d. Bharati College's fee receipt or ID
3: Print of fee submitted online
Certification shall be jointly awarded by Bharati College & RKFMA after the successful completion of the course. Classes are tentative to commence in the last week of August/ 1st week of September and shall follow the Bharati College's/ Delhi University's academic calendar. Studio based practical sessions shall be conducted at RKFMA.
For any admission information, assistance / help required in admission in above add-on certificate course of Bharati College, candidates can also Contact or WhatsApp RKFMA's representative at +91-9312237583, 9958880223, 9310047775, 9312231374 between 10am-6pm IST.
Nearest Delhi metro station to Bharati College are:
Janakpuri (East) Metro Station| on the Blue Line
Tilak Nagar Metro Station| on the Blue Line