Sound Engineering Course in Delhi |Audio Engineering Course
If you want to explore the modern production and editing techniques in creative process without limiting yourself to just one genre, then this course belongs to you. Sound Engineering Course in Delhi will not only let you understand the Sound and Music Production technology we have today but also prepare you in that way individual can start their own sound production techniques and studio as per the requirement of industry and modern editing technology.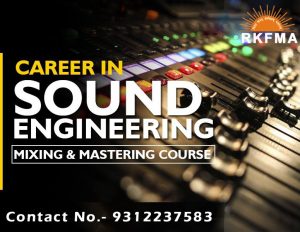 The course covers information in a detailed format from the basic of Audio and Sound concept in which you will get the knowledge of Sound Production history and its role, how to maintain studio and its maintenance, Record room and Control Room and more. The audio Engineering and Sound Production course offer aims to bring curriculum that is designed for the music and sound track producers and how to use the toolkit for digital audio. We at RKFMA, provide student more practical training rather than theoretical knowledge of Audio Engineering Course to become an expert and professional in their same field.
This course will cover the all aspects of Sound Editing and Recording, Digital Audio Concept, Analogue and Digital Recording, Software knowledge, Types of Microphone use in different vocals, Music Theory, Recording Techniques and Studio set up. Audio Music Mixing, Mastering includes Alphabets rhythm, understanding of Rhythm, Midi Controller and Mixer. Trainers of RKFMA Institute have strong experience and knowledge in their respective field. They will teach modern use of audio editing and how to record and edit sound track in Industry standard. There are variety of jobs in this field to offer like in Broadcasting, Television, live Radio, produce, Film studio, theater etc.
After completing the Audio Course, student will be able to configure a personal Audio production, handling digital Instruments and Audio Recording for Music Production. In fact, Film, T.V Industry are dependent on audio medium.
If you are interested to take admission in our Sound and Audio Engineering Course in Delhi then get in touch with RKFMA team on 011-450642421, 9312237583, 9310047775, 9312231374, 9958880223. They will give you more information about the course content and facility we offer.