How getting admission in the top mass communication & journalism college in Delhi ensures a bright Future
Mass Communication Course
Technology has brought the entire world into one unified global community. The spreading of news has become more accessible with the increase in broadcasting channels, radio stations, social media, and many more as a result Mass Communication Course, as a career, becomes popular.
Mass communication is not only related to Journalism, but it means mass media that is connected with human aspects. Mass communication is about spreading information to masses (people) through any medium whether regional or global.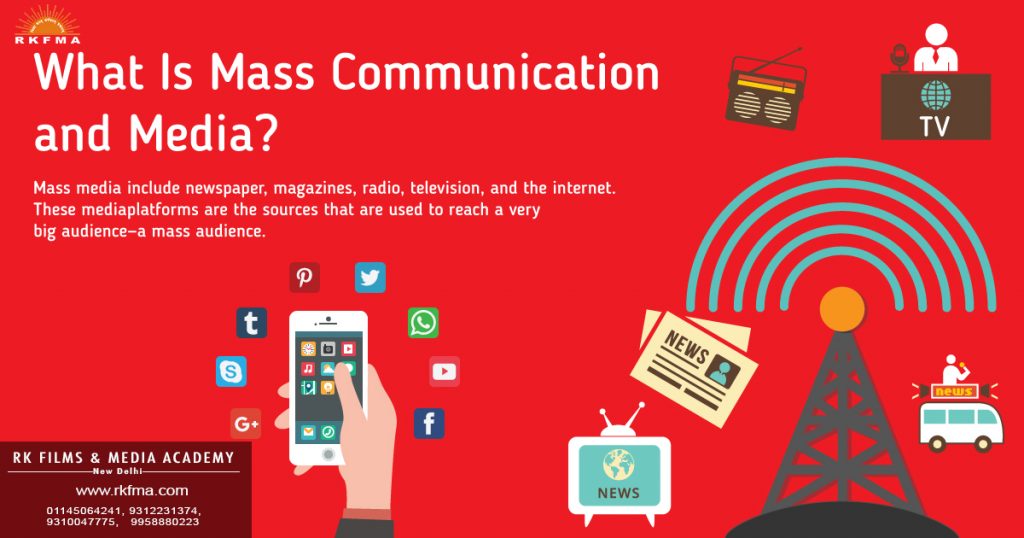 The increase in online professional networks and media/ content publishing portals has opened immense opportunities to the aspirants good at reporting, writing, technical knowledge like camera handling, graphics and editing, video making, public relations, advertising, brand management and marketing.
Top Mass Communication College
As the degree in Mass communication opens the many possibilities for an aspirant in Television, Advertisement, Radio, Web and many more fields so candidates wanting to take admission in Mass Communication Colleges in India are also increasing.
Do read more to know about different specializations and courses that the R K Films and Media Academy is offering you to choose right careers in mass communication and journalism:
COURSES IN MASS COMMUNICATION
R K Films & Media Academy offers various course options in the field of Mass Communication.
Admission Criteria:
Eligibility for any aspirant who is seeking to take admission in a bachelor's degree shall have passed 10+2 in any stream from a recognized board of education.
Course Objectives:
The course aims to give practical oriented training to the students to meet the increasing demands for trained personnel to work in diverse areas of Media and Mass communication. Fundamentals and advanced concepts and practices of print Media, TV, Radio, Film, Web, and Digital Media. Students also get an opportunity to learn from industry experts.
Admission Criteria: Candidates with bachelor degree in any subject from a recognized Indian university can join.
The students completing the MJMC degree course also get an opportunity to learn from field practicals.
Admission Criteria: 12th pass from any stream or any subjects.
This course aims to give you practical oriented training in the field of Mass Communication and involves fundamentals and important aspects of the field of Print Media, TV, Radio, Film, Web, and Digital Media.
Admission Criteria: Bachelor degree from any stream or any subjects.
Duration of the course: The duration of this course is 1 year with a two-semester program.
5. Radio, TV & Web Journalism:
The courses aim to offer cater to an ample number of people ranges from working professionals to students pursuing traditional degrees in other fields and interested in the field of mass communication. This course has started to suit the need of the individuals who are not able to pursue a degree course but working in the media houses and wants to have a certification of the course.