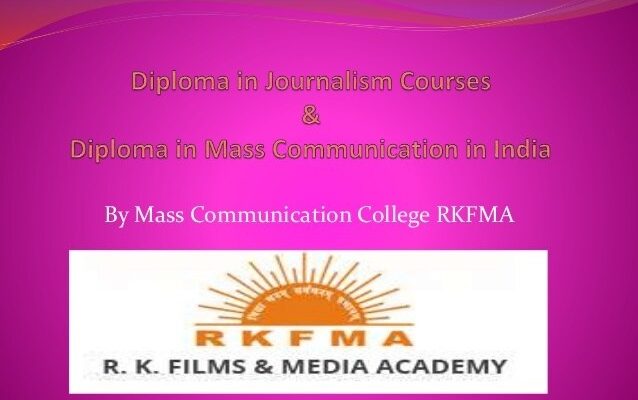 Diploma in Mass Communication
Diploma in Journalism and Mass Communication
Diploma in Journalism and Mass Communication is a one-year diploma course that focuses on gaining in-depth experience using various tools used in mass communication, like public relations, event management, advertising, corporate communication, film direction, marketing, and the like.
The course training aims to upskill the students with a passion for careers in journalism and mass communication. The students who aspire to pursue this course should be able to groom their communication, interpersonal skills and creative skills to succeed.
The most common job profiles for the diploma holders includes content writers, journalists, social media executives, translators and editors. The average salary for any professional with Diploma in Mass Communication is between the range 1 LPA-6 LPA, which is bound to increase with the expertise and experience.
Major recruiters of Diploma in Mass Communication candidates shall be news agencies, broadcasting companies, All India Radio, photography studios, advertising agencies, television and newspaper agencies, digital media companies, etc.
The minimum eligibility for the course is 12th pass or equivalent. The average fee for Diploma in Mass Communication in India is between the range INR 30,000-INR 80,000.
Top Colleges/institutes/universities offering Diploma in Mass Communications in Delhi-NCR
YMCA Education Center, Delhi
R. K. Films and Media Academy, Delhi (RKFMA)
Asian Academy of Film and Television, Noida (AAFT)
Bhartiya Vidya Bhawan, Delhi (BVB)
IAAN School of Mass Communication, Delhi
Institutes like R. K. Films and Media Academy (RKFMA), one of the best institutes for Mass Communications, integrates films with television, interactive media, digital cinematography, and visual effects. The institution guides the students for Journalism and Mass Communication and equips them with the knowledge and skill needed in film production.
For more details of media courses offered at RKFMA, contact at +91-9312237583 or +91-9310047775.