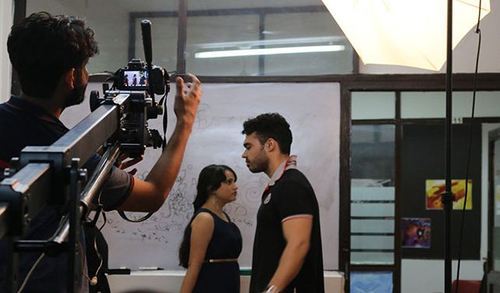 Looking for Acting Course?
Getting into a character and live a reel life on set and then going back home and living a real life isn't easy for everyone. It requires patience, practice and persistence to get into the character and adapt each and every quality of an individual.
Best Acting School in India
If you are someone who is dedicated to learn but cannot find a best school for Acting course, or maybe the best acting school then you are in right hands now. RKFMA will help you with desired guidance throughout the journey of acting course it offers.
Firstly, let's start with a brief about RK Films & Media Academy. RKFMA is of one the oldest and the most renowned institute of acting and modelling. All trainers, faculties & teachers of Acting Courses and Fashion Modeling, Beauty Pageant Grooming program including some set of renowned experts who are having respectable experience in film industry, television industry, stage shows & Theatre artists are regular teachers here as well as some of them come as a guest faculty.
RKFMA – Among Best Acting institute in India
Don't go by the name only but our reputation serves the respect of our name. We not only provide you the theoretical knowledge of acting but, also we believe in practical learning because acting if acting can happen between four walls then it has to has to happen among thousand to lakhs of people.
Before that the very first step is know more about RKFMA which is the best Acting institute in India. Film Acting School by RKFMA was started in the year 2006. Among all the acting schools in India, RKFMA has benchmarked its presence among top Acting institutes in India.
If you are above 14 in age then you can apply easily for the course and start learning at this very early stage to master the art of acting. We offer you the best career options in our institution including Acting, mass communication and journalism, modelling and much more.
For more details visit: https://rkfma.com
RKFMA -Best Acting Academy in India
Do not hustle all day long to find the best Acting school. No matter if you are young or too old, you are from India or anywhere from the globe learning is open for everyone. All you need is dedication to learn and zeal to enhance the talent.
We are here to solve all your doubts and questions regarding the acting course. Keep in mind you are just some clicks away in reaching out to us. At RKFMA, being one of the best acting academy in India, students are assured to fulfill all learning requirements related to course of their choice.