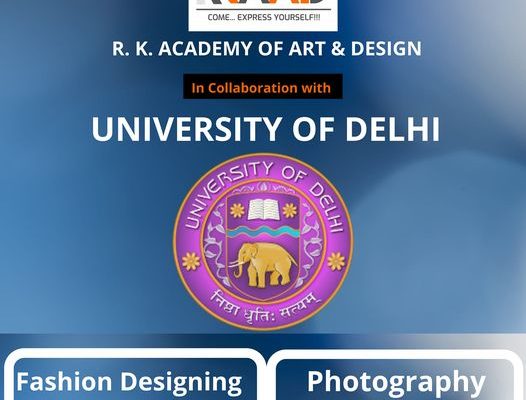 Institute of Fashion Designing
As the world changes, so do its sense of style. Every day, the fashion business expands, and with it, so does the demand for innovative fashion designers. The global fashion industry is increasingly centered in India. The concepts and originality of Indian designers are praised.
Fashion Designing Institute in Delhi
RK Academy of Arts and Design, a fashion designing institute in Delhi, focuses on design concepts, in addition to technical expertise, and gives students a worldwide perspective on fashion design.
The institute provides its students with a platform where they can present their creations as accomplished designers. Additionally, it offers various short-term and long-term courses that aid students in starting their fashion studios or establishing themselves as independent fashion designers.
A fashion Designing course offered by RKAAD has the following program duration:
Short-term course – 1-year diploma program.
Long-term course – 3-year degree course.
If you have the talent to make people seem nice, you might be an excellent fit for a career in fashion design. One also needs to have the ability to combine colors, shades, and textures as well as express your ideas through sketching.
For the above-mentioned reason, the fashion designing courses at our school of fashion design are designed to give everyone the fundamental knowledge and abilities required in the style environment.
The objective is to educate and inspire aspiring fashion designers and couturiers. If you want to kick-start a career in fashion design or if you are already a fashion designer and want to improve your knowledge of the field, you can enroll in our intensive fashion design institute in Delhi.
Fashion Training Institute in Delhi
Our fashion training institute in Delhi is a great fusion that encompasses many parts of the designing, management, and technical components of the textile and garment sector.
Additionally, you will be prepared for the different issues faced by the fashion business by taking our fashion designers' courses. With a variety of connected topics including street photography, the development of fashion shoots, and trend research, industry specialists will provide talks.
For information in admissions, contact at +91-9312237583, +91-9310047775, +91-9958880223 between 10am to 5pm IST.