Radio & Voice Dubbing Courses
Voice Dubbing & Modulation Courses & Training Classes in Delhi (India)
There is huge difference in voice quality of a rookie & amateur. At R K Films & Media Academy, the courses like Radio Jockeying (RJ), Anchoring, News Reading, Voice Dubbing & Voice Over, Voice Modulation & English Accentuation etc., the students not only learn to modulate their voice but also gain confidence in the art of public speaking & presentation skills.
For admissions and inquires of Radio & Voice Dubbing Courses, please contact admissions counsellors at 011-45064241, 09312231374, 09312237583 or 09310047775. Email your queries at admissions@rkfma.com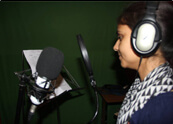 Certificate Course in Voice-Over, Dubbing & Free Commentary (Voice Culture & Voice Modulation Training Classes)
"Your voice is your identity when it leaves others speechless." The course is all about creating you...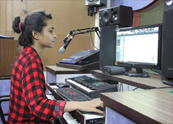 Radio Jockeying, Anchoring and TV News Reading
This is one complete & intensive "master class" course for those who are fascinated by the world...